An example of the business problem shared line resolves is where a staff member needs to manage their own calls between a number of different phones, say an office phone, a softphone client, and perhaps a home desk phone. Shared Line links up to five additional devices to the Shared line primary number.
Enable Shared Line
Log into Your Account.
Select Switchboard.
Select your Number.
Select Inbound.
Select Shared Line.
Click Enable Shared Line Appearance.
Click Save Settings to update.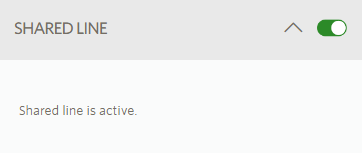 How They Work
When you enable the Shared Line feature we hyphenate the 2nd, 3rd & 4th in the following format: xx xxxx xxxx-1. For example, if your primary Shared Line is 61290625648 the second "shared line" DID would be 61290625648-1, then 61290625648-2 up to a maximum of 5.
On your second device, you would register 61290625648-1 as your DID reusing the same password registered against 61290625648.
After you register the numbers to the different devices, they will all ring when you get a call to your primary number. The devices will stop ringing as soon as the call is picked up in any one of them.